« Khloe Kardashian And Lamar Odom Open Up About Their Move To Dallas | Home | The Biggest Loser Winner John Rhode Talks About His Win »
December 14, 2011 01:24 PM by Ashley Lee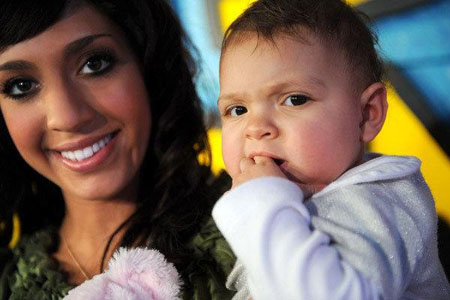 The women of Teen Mom don't just have trouble raising kids while still young themselves, but their chaotic loves lives equally share airtime on the show. However, Farrah Abraham hopes that her search is over, now that she's dating an older man — a 34-year-old businessman, Marcel Kaminstein! But will the age difference (fourteen years!) be too much for Farrah and Sophia to handle?
According to Life & Style, the two-month romance is all smooth sailing, as they were last spotted walking, kissing and posing for pictures during a romantic walk on a Miami Beach. Farrah also tweeted later that day, "I had a great time at the beach with my bf!"
The unlikely couple met on JDate.com, a Jewish dating site, where Farrah's profile read that she's looking for "a man who is happy, supportive, works hard, is successful, can stay in but also go out, is active, outgoing, easygoing, likes children and dogs, can be serious but knows when to have fun, and is a romantic." Since Sophia's father died before the baby was born, Farrah has dated Daniel Alvarez briefly, but now seems to be taken by her new, older beau! "I want to build a strong and lasting relationship with him," she tells Life & Style.
What about Sophia? Though Farrah has only been dating him for a couple of months, introductions have clearly already been made — and met with positive results. A friend tells the magazine, "She's always hugging him, he's great with kids." Farrah left her daughter Sophia, now two years old, with her mother in Iowa to start a new life, but she now plans to move Sophia to her new home in Fort Lauderdale, Florida. Possibly to also spend more time with Marcel?
Want more? Follow our tweets on Twitter and "like" us on Facebook! For other great Teen Mom news, please feel free to check out Sir Links A Lot: Reality TV News.
Visit our sister site SheKnows for more breaking news about celebrities and entertainment!
Photo credit: SheKnows.com courtesy of MTV
Topics: MTV Reality TV Shows, Teen Mom |

« Khloe Kardashian And Lamar Odom Open Up About Their Move To Dallas | Home | The Biggest Loser Winner John Rhode Talks About His Win »
2 Comments »
2 Responses to "Teen Mom Farrah Abraham Confirms Her New Beau: An Older Man!"
JJLUV41 Says:
December 14th, 2011 at 3:23 pm

Wow what a hypocrit.She shouldn't talk because she's the idiot who got pregnant at 16 or whatever then dumb MTV picks & pays her to broadcast her stupid life. She's just lookin' for a sugar daddy that'll be a sucker enough to pay for her and for her kid's expenses bcause she already blew all the money ($250 k+) MTV paid her, instead of saving it.

dadd Says:
July 25th, 2012 at 1:59 am

Welcome to—"SeekCougar"—the world's first, largest and most effective dating site dedicated to older women and younger men, or older men and younger women who have a sincere desire to get involved in this specific type of relationship. Have a try and find your May-December romance.
Comments