« Kris Humphries Says That Kim Kardashian's Reality Shows Are Fake | Home | The Bachelor: Lawsuit May Prevent Spoilers For The New Season »
December 16, 2011 02:22 PM by Ashley Lee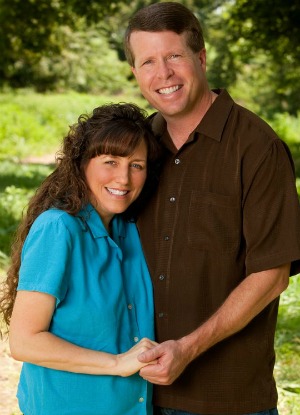 When the Duggars of 19 Kids and Counting found out that Michelle Duggar suffered a miscarriage, the family did a few things to commemorate the loss of the one who would've been their 20th child: a) Jim Bob and Michelle named her Jubilee Shalom Duggar, b) they planned a memorial service, and c) they had black-and-white photos taken with the fetus and passed them out at yesterday's memorial service. However, they never wanted them to be released to the public, especially during this sensitive time. So who shared them without the Duggar family's consent?
Ironically enough, it was another Duggar who did such a thing: Amy Duggar, a cousin of the immediate family who often appears on 19 Kids and Counting, tweeted a photo of the commemorative handout. "RIP precious Jubilee Shalom Duggar! Can't wait to meet you someday, thank you Lord for giving our family peace."
TMZ republished the photos and, when taken out of context, these pictures seem like a cheap ploy for the family to take advantage of their reality-show-celebrity status and collect press. Because that's what these people would definitely do during this difficult time, right? Wrong, says both the family and the photography agency who served them.
At first glance, the photos may appear disturbing: one captures Michelle's finger holding Jubilee's hand, and another is of Jim Bob's hand holding her feet, along with the text, "There is no foot too small that it cannot leave an imprint on this world." Though these may be shocking image altogethers, they were meant to be honorable instead of exploitative, and ultimately help the family through the grieving process.
In fact, the photos were shot by a volunteer-run, nonprofit photography agency called Now I Lay Me Down To Sleep. The agency's mission is "to introduce remembrance photography to parents suffering the loss of a baby with the free gift of professional portraiture…these images provide tangible proof that their child was real." Now I Lay Me Down To Sleep was cofounded by Cheryl Haggard, whose son died shortly after he was born.
"I had photographs of my son, Maddox, that I had taken in the hospital with my digital camera and he was a little jaundiced and he had tubes and wires and the bright orange tape on his mouth, holding the wires in," Haggard told The Daily Beast. "And to me, that was the reality that I lived. I see those images and I experience the sadness and that stressful time for us. But when I look at the black-and-white images that [a photographer] took, they are softer, more classic. Those are images I can show without feeling apprehensive. What happened to us was a complete shock, and those pictures bring me a lot of comfort."
After Amy released the photos without the family's consent, the Duggars eventually posted the photos on their own website, along with an audio recording of a letter from Michelle to Jubilee.
Jim Bob said at yesterday's service, "We won't be able to see this child's life and the phases that we've seen for our other children, but we know we will see this child in heaven one day. We are thankful for each child, and we are blessed to have the children we have here and the ones we will meet someday in heaven."
Want more? Follow our tweets on Twitter and like us on Facebook! For other great 19 Kids And Counting news, please feel free to check out SirLinksALot: Reality Television.
Visit our sister site SheKnows for more breaking news about celebrities and entertainment!
Photo credit: SheKnows.com via Scott Enlow/TLC
Topics: 19 Kids And Counting, TLC Reality TV Shows |

« Kris Humphries Says That Kim Kardashian's Reality Shows Are Fake | Home | The Bachelor: Lawsuit May Prevent Spoilers For The New Season »
10 Comments »
10 Responses to "Who Released Photos of Duggars' 20th Child, Jubilee Shalom?"
Comments